A regional newsroom learning important lessons from new journalism
Want to know more?
Feel free to reach out.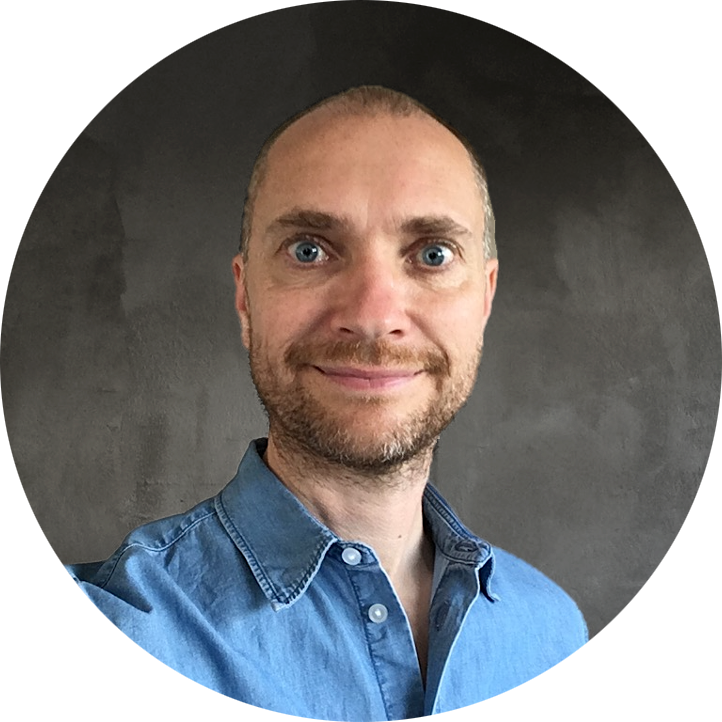 Christian Hougaard
Chief Commercial Officer, Northern Europe
christian.hougaard@wearehearken.eu
TV 2 Lorry is a regional danish newsroom that produces news and feature content for the capital area since 1990. In April 2021 they decided to start a partnership with Hearken.
TV 2 Lorry has always been a newsroom that listens to its users, something that is reflected in a section on their webpage called "Tip Us". This provided the users with the opportunity to send a tip to the editors about potentially interesting stories.
They wanted to expand on this concept, in a way that supported broader ideas and wonderings about life in the Capital area, instead of the more specific submissions that "Tip Us" supported.
TV 2 Lorry has three overarching values that they wanted to be reflected in the new project, which was dubbed "Ask Us":
They want their audience to feel heard
They want to be accessible
They want to be relevant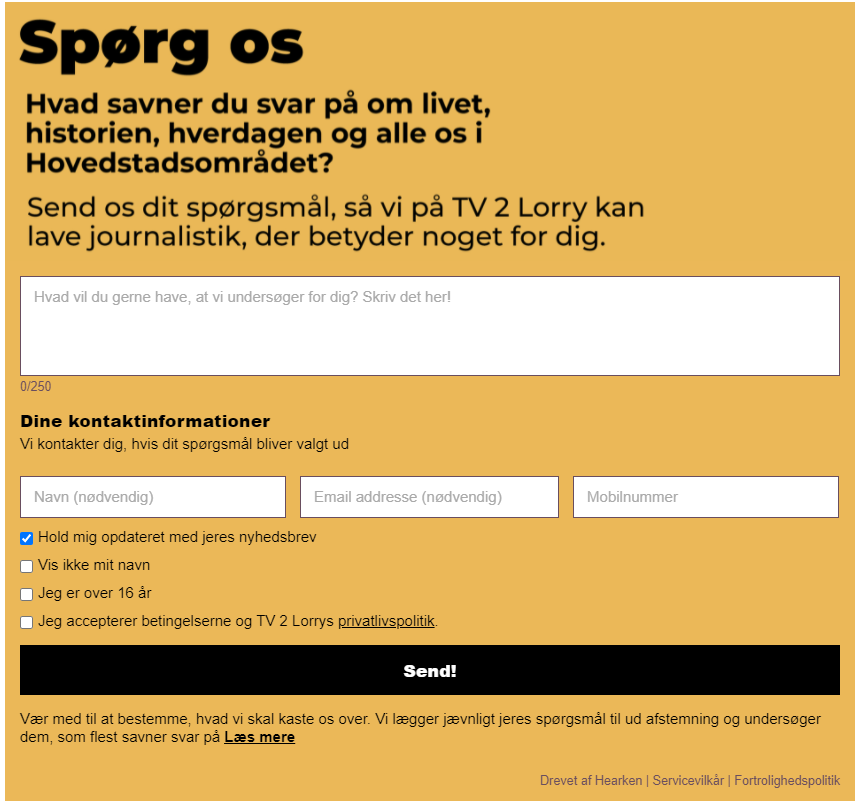 Working with the question asker
TV 2 Lorry has made a promise to always investigate the winning questions each week. This way, the users are in charge of a democratic process aiming to deliver the most relevant and insightful story. Some questions are easier to answer than others, and sometimes these questions gets handled and put up on the "Quick Answers" section on their webpage.
TV 2 Lorry has promised to contact the question asker, properly understand their question, and potentially include them and their perspective in the story.
A great example of how valuable this can be is found in the story titled "How it works: A PCR test's journey from swab to result".
The story started with Kjeld asking what happens to the covid tests after we take them, which was the winning question of "Ask Us" that week. The staff at TV 2 Lorry was unsure of what type of test the question was referring to, so they called him up, and he clarified. The call turned into a great conversation, and it ended with TV 2 Lorry inviting Kjeld to become a part of the story, which he accepted.
The whole experience made such an impression on Kjeld that he followingly wrote a mail thanking TV 2 Lorry for including him and making him the subject of the story.

We talked with Nanna Holst, the head of Lorry's "Ask Us" project, to find out how their engagement project is going. We asked her what they're doing to get closer to their users, and she answered:
"Part of our new process is that we contact the user who asked it, to find out what they want to know, every time we take on a question.
"We want it to be more personal. When we worked with user questions previously, the users would never be a part of the process."
"We involve the users much more when we do it this way, and it's a great experience for us and for them"."
A valuable lesson

TV 2 Lorry found out that some of their users sent questions about topics that they had already covered before. An example was a user who asked about the local waste sorting systems, "does it make any sense to do this, does it make a difference", which won the polling round that week. We talked about the question, which turned out to contain a valuable lesson for TV 2 Lorry:
 "My coworkers told me that they had covered it previously. No one wanted to do the story. In the end, my student assistant wrote the story with my help. We found everything that we had on the topic and connected the dots."
"When the article went live it was a huge success. It had excellent reading time, a lot of views, and it continued being a top story for a long time, which also had a derived effect on our old video series."
 "A key takeaway from this story is that even though we feel like we have done it before and that we have all the answers, we haven't, and we don't, because even I, who has seen and read everything we have published about waste and recycling, learned a lot of new stuff from the new research."
Even though the team had certain expectations, they were pleasantly surprised about the eventual outcome, and the story served as a great way for the newsroom at TV 2 Lorry to get insight into the power of new journalism.
The waste sorting theme was also put on TV 2 Lorry's Facebook page. They were used to Facebook comments being primarily negative, but the waste sorting theme was a constructive debate where users asked new questions that other users answered, so that way they helped each other reach higher levels of understanding.
Experience TV 2 Lorry's "Ask Us" landing page here.

TV 2 Lorry is a Danish regional newsroom operating in the Capital area since 1990.
They have always valued the curiosity of their audience and are used to working with users questions, but decided to expand the method in April 2021
TV 2 Lorry puts the three best questions to a democratic vote, and investigates the winning question each week.